10 Random Facts And Stats From Super Bowl 51
1. Elias Sports Bureau reports that 24 new Super Bowl records were set, and another 7 were tied. The new ones include a lot of career marks for Tom Brady, which isn't surprising since he's been in more Super Bowls than any player in history, and he's been successful . . . winning FIVE of them.
Brady also set new single game records for most passes in a Super Bowl, most completions, and most passing yards. James White has the new mark for most receptions in a game, and he also scored the most points, with 20. That's six for each of his three touchdowns, plus his two-point conversion.
New England now has the most Super Bowl appearances in history with nine . . . they have the record for largest deficit overcome with their 25-point comeback . . . and they have the most first downs in a Super Bowl with 37.
(You can find a rundown of all the new records, here.)
2. When the Patriots trailed 28-to-3 in the third quarter, it was easy to write them off. In fact, even AFTER the Patriots scored their first touchdown to cut it to 28-to-9, the Falcons' win probability was still 98.9%.
The percentage was even crazier at 99.6% after New England cut it to 28-to-12, because by that point there was only 9 minutes and 44 seconds left in the fourth.
3. Brady now has 15 touchdown passes in his Super Bowl career. Since he was drafted in the SIXTH round back in 2000, there have been 45 quarterbacks taken in the FIRST round. And they have COMBINED for 15 touchdown passes in the Super Bowl.
4. If they gave a runner-up medal with the MVP, it would've went to running back James White, who became the first person in Super Bowl history to have at least 10 catches, 100 receiving yards, and two rushing TDs.
(ESPN has a chart showing that he was catching balls ALL OVER the field.)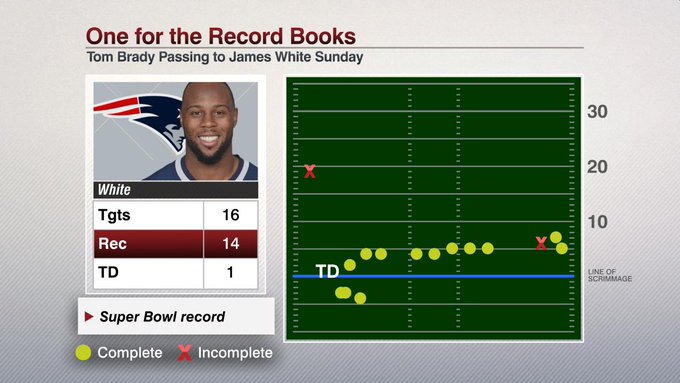 Follow

ESPN Stats & Info

✔

@ESPNStatsInfo

A look at where James White @SweetFeet_White caught his Super Bowl record 14 passes

12:10 AM - 6 Feb 2017
5. One record that Brady HASN'T set yet is being the oldest quarterback to win a Super Bowl. He was 39 years and 186 days old yesterday. But Peyton Manning was 39 years and 320 days old when he won last year.
6. Scratch that . . . there are at least two records that Brady doesn't have. He passed for 466 yards last night, which is a record for the Super Bowl, but it's tied for the SECOND MOST in postseason games overall. Believe it or not, the record-holder is a CLEVELAND BROWN. (???) Bernie Kosar threw for 489 yards in a divisional playoff game back in 1986.
7. Yesterday was Brady and Belichick's 25th postseason win as a quarterback and head coach combo. That's 10 more than any other QB / head coach combo.
8. Before the Patriots' improbable comeback, the defining moment was when the Falcons intercepted Brady in the second quarter, and ran it back for a touchdown to make it 21-0. At that point, teams were 12-0 in the Super Bowl when they'd returned an interception for a touchdown. Now, they're 12-1.
9. The Falcons led for 41 minutes, 18 seconds of game time. The Patriots didn't lead until they won it in overtime. When the Patriots were down by 25, it was their largest deficit since trailing the Kansas City Chiefs by 34 in Week 4 of 2014. Before yesterday, the largest comeback in Super Bowl history was 10 points.
10. On top of that, the Patriots were down 19 points at the start of the fourth. Throughout NFL playoff history . . . not just the Super Bowl . . . teams up by 19 or more points heading into the fourth were 93-0. 93-0! Now they're 93-1.
PHOTO: NFL / TWITTER

Josh Martinez
Want to know more about Josh Martinez? Get their official bio, social pages & articles on CHANNEL 999!
Read more