10 of the Kardashians' Biggest Blowout Fights of All Time
The Kardashian-Jenners have been involved in their fair share of public blowouts, ranging from inner-family feuds (remember the time Kim told Kourtney she was the "least exciting to look at," and told her she didn't want her at her photoshoot?!) to more public fights (P!nk got into it with the family after criticizing the famous reality stars for the way they showcase their bodies). After last night's episode of "Keeping Up With The Kardashians" (which detailed the cheating scandal between Kylie's former BFF Jordyn Woods and Khloe's baby daddy, Tristan Thompson), we decided ot take a look back at some of the most explosive Kardashian fights and list them here. Scroll on!
1. Kim Tells Kourtney She Doesn't Need Her at the Photo Shoot
Kim tried to plan a meeting to schedule around an upcoming photoshoot, and Kourtney tried to put in her two cents, suggesting she do it in the morning. Kim clearly didn't appreciate Kourtney chiming in to a conversation between her and Kris, and it caused Kim to go ballistic! Kim let Kourtney know that she did not want her to be part of the photoshoot, and as Kourtney exited the room, Kim announced that Kourtney is the "least exciting to look at," putting the nail in the coffin.
2. P!nk calls out Kim for naked photos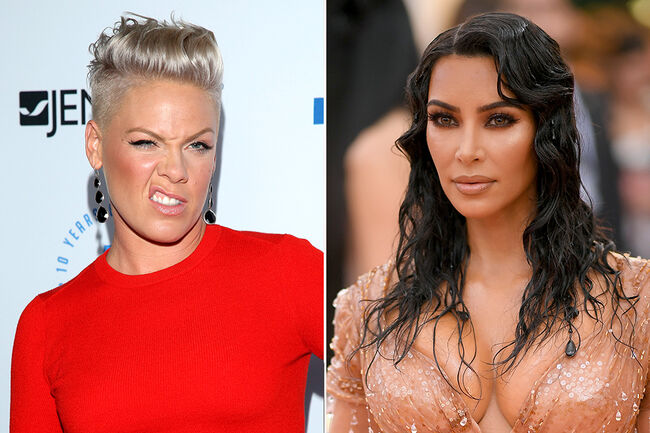 Photo: Getty Images
"It may not ever bring you as much 'attention' or bank notes as using your body, your sex, your t**s and a***s, but women like you don't need that kind of 'attention.'" Clearly P!nk was not a fan of Kim utilizing her bodily features to attract attention on the internet, and made this public on Twitter. P!nk was asked about the incident by Andy Cohen, but she dodged answering him. Then, Kim had other celebrities throw shade in her direction. Looks like not everyone will raise their glasses to the super family.
3. Was Drake's "In My Feelings" a shot at Kim?
Photo: Getty Images
In Drake's 2018 summer banger, "In My Feelings," it is believed that the "Kiki" he mentions refers to Kim, who is often called the nickname by family members. Fans across the world jumped at the idea of a possible affair between Drake and Kim after the song was released, but Kim and Kanye have fired back on Twitter towards the Canadian-born rapper.
4. Handling [Chelsea] Handler
Photo: Getty Images
The Kardashian sisters were not fans of Chelsea Handler comparing them to Donald Trump, but it seems as if now Kim has changed her stance and they are on good terms. However, Khloé still has beef with Chelsea: She told Andy Cohen that she is not a fan of people who talk behind their backs while trying to act like nothing's wrong when they see them in person. Looks like the sisters have differing opinions on the matter.
5. Kourtney Cannot Hold Back Tears During Intense Therapy Session
Kourtney attended a dramatic therapy session in which she revealed a disconnect between her and her sisters. She expressed how Khloé and Kim do not have her back and shed quite a few tears doing so. Although she is constantly traveling to see her ex and is constantly late to TV shoots and meetings, Kourtney let out her emotions.
6. Kim's Bentley Was Stolen By … Her Brother?
Rob Kardashian apparently did not feel it was necessary to tell his older sister that he was taking out her new Bentley for a spin, and Kim completely freaked out when she noticed her whip was missing. It was quite a scene when Kim was standing with a police officer describing her missing Bentley, just to come across her younger brother at the wheel. Rob saw it as all fun and games, but it was more than enough to drive Kim crazy and see her anger be unleashed on the youngest of the siblings.
7. Khloe Talks Her Way into Being Uninvited from Kim's Wedding
Kim found out Khloé had been talking about Kris Humphries behind her back, and it made Kim upset. Although their marriage only ended up lasting 73 days, Kim clearly was not happy with the idea of Khloé being skeptical about her getting married to the former NBA player. Is Khloé a genius for forecasting the eventual fallout of the marriage? Because it certainly seems like she sniffed it out ahead of time. Kim ended up "uninviting" Khloé from the wedding after the conversation out of frustration.
8. Kris Gives Kim an Earful After Finding Out About Her Helping Caitlyn Get Ready for the ESPYS
Khloé decided it was a good idea to call her mother with Kim after she heard that Kris may be upset with Kim. Apparently, Kim helping Caitlyn get ready for the ESPYS made her a "traitor" to the family and disloyal to the woman who birthed her. These claims had Kim and Khloé in shock, and even Foodgod (AKA Jonathan Cheban) was baffled by the situation. Apparently, Kris being on good terms with Caitlyn does not mean that Kim had the freedom to assist her parent without consent from other family members, and Kris couldn't hold back the tears.
9. Caitlyn's Book Has the Family Fuming!
The Secrets of My Life was meant to expose the hidden truths of Cailtyn Jenner's life to the world, but it turns out that her family was very displeased by a lot of what was written about them. Kris went off on a tangent about how Cailtyn came across as lying in the book. Kris was very upfront about how much the book made her upset and vocalized this to her kids, not holding back one bit.
10. Kourtney Refuses to Be on Kim's App and the Bad Blood Spills
Kim clearly credits all of Kourtney's fame to herself and was wildly upset when Kourtney refused to be a part of her game. Kourtney said that if Kim phrased her involvement as a "favor," then she may have taken part as a character. Kim wanted her game to "mirror her real life," which would clearly include all the sisters, and Kourtney's refusal to participate had negative effects on Kim's realistic app. Whether or not Kourtney owes Kim a "favor" for her sister's assistance in her fame, it was clear that Kourtney wanted no part of the app and Kim had to do some maneuvering to get her way.